You need to be logged in to see additionnal information and be able to contact the advertiser!
CREDIT CARDS CLONING EMV SOFTWARE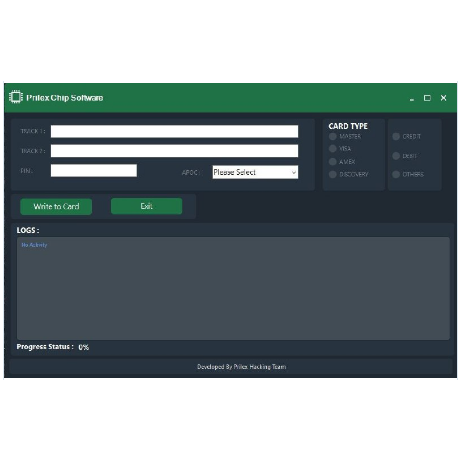 CREDIT CARDS CLONING EMV SOFTWARE
$199.00
---
Advertiser

Type of Advert

FOR SALE

Item Condition

NEW

Time Left

9 months and 16 days -

Quantity 1
Description
Development Notes:
Functioning with over 20 Different
EMV Writers Used with 1 Encryption code for functionality.
Updated frequently to combat Patches from Banks.
When banks and other financial institutions introduced chip-based cards, or to be more specific EMV cards, they claimed they were safer. These cards encoded payment information on a microchip. The generation of a one-time use cryptogram further enhanced security of these cards. EMVs were regarded as an upgrade from magstripe cards.
And while the world breathed a sigh of relief, believing that their financial transactions were secure, DeepTeam have been busy devising methods to break the barriers of EMV cards. Modern EMV card reader software developed by DeepTeam not only skim data from POS and ATM machines, software can also clone cards. These fake EMV cards are further used to complete cash withdrawals and buy products off the market.
The EMV software is one of such EMV reader writer software solutions available on the market. Here's more on the features of EMV reader-writer software's and how they work.
POS (Point of Sale Machines Compromised)
EMV cloning software is designed to read, write, erase, encode and duplicate EMV. In order to complete any of these processes, it requires credit and debit card information that it can copy onto these cards.
Thus, the first step is to collect payment card data, often done through using shady means. Scammers compromise point-of-sale systems or ATMs using shimmers. These are unlike the card slot or keypad look-alike fixtures fitted to a sales terminal or ATM. The 'shimmers' are paper-thin inserts that fit into the card slot on a point-of-sale terminal. They have an embedded microchip of their own, that steals and stores credit and debit card data every time a person uses their card to make a payment or withdraw cash.
The purloined chip data is stored in the device. Again, the skimmers have been updated. While earlier the data skimmer would have to be physically retrieved, modern day skimmer dispenses with it. They are designed to be remotely controlled and transmit data directly via SMS.
Dumps
The data thus stolen is either used to clone cards or further packaged and sold as dumps to customers. These dumps are used to burn and write cloned cards. Data is stored in the form of tracks on a payment card. The patch helps gather crucial track data needed to complete a transaction such as cardholder name, account number and expiration date. The package also includes access to a tool called "Daphne"(Discontinued) , it records and organizes the credit card information obtained.
Cloning Cards
An EMV reader writer software allows one to clone and create their own cards that work at almost all point of sale systems. Once connected to the hardware, the EMV card reader software enables multiple functionalities. There are templates for different credit card structures. You can choose from a range of card formats – Visa, MasterCard, Maestro, American Express, Discover and Diners Club. One can also choose between a credit and debit card. The software runs the necessary tests after which the information is transferred to the new card by means of an EMV writer software. The transfer takes place via GPShell script. The new card created is as good as the original. A well-designed user interface makes credit card cloning a breeze. EMV reader writer software is a complete malware suite and makes cloning a hassle free task.
232
---
Other adverts from DeusEx
---
Other adverts from products
---